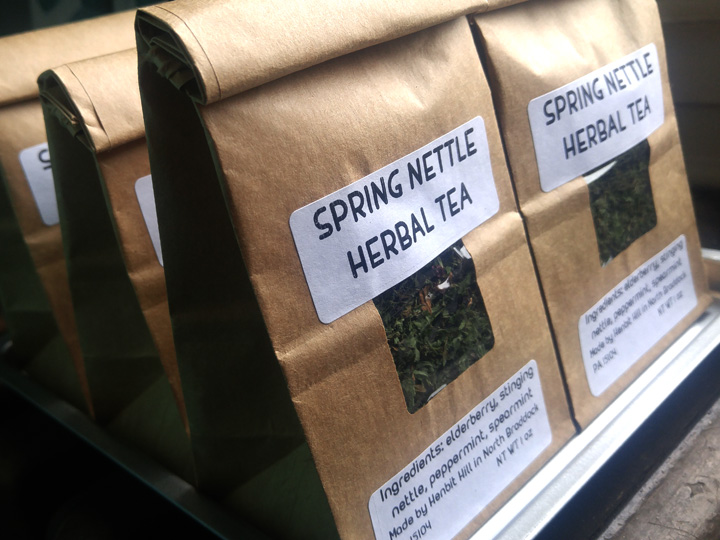 Teas
sold out
Spring Nettle Tea
1 oz of leaf loose tea. All grown in my garden.
About Spring Nettle Tea…
Stinging Nettle (Urtica dioica) is an early emerging plant in spring and is a mineral-rich tonic herb. It may have purifying and strengthening effects on the blood and kidneys and may help to cleanse the body of toxins as the seasons move from winter to spring. Please consult your doctor if you are on prescription medications before using nettle tea. I harvest nettles from my organic patch (with gloves!) and dry them on screens. I love the subtle, grassy flavor of nettles.
Elderberry (Sambucus Canadensis) is an antioxidant rich berry that ripens in summer. Drying the berries allows me to add them as colorful additions to my herbal teas!
Mints (Mentha spicata, Mentha x piperita) are calming and soothing herbs for the stomach and digestive tracts and lovely to blend with other herbs in teas for a fresh and minty taste!
My favorite way to make this tea is to brew 3 tsp in a quart of hot water and make an infusion by steeping for 2 hours or so. Then I chill the tea in a bottle in the fridge and drink cold for a refreshing, mineral-rich tonic!
Ingredients: elderberries; stinging nettle; peppermint; spearmint
These statements have not been evaluated by the FDA. This product is not intended to diagnose, treat, or cure any disease.